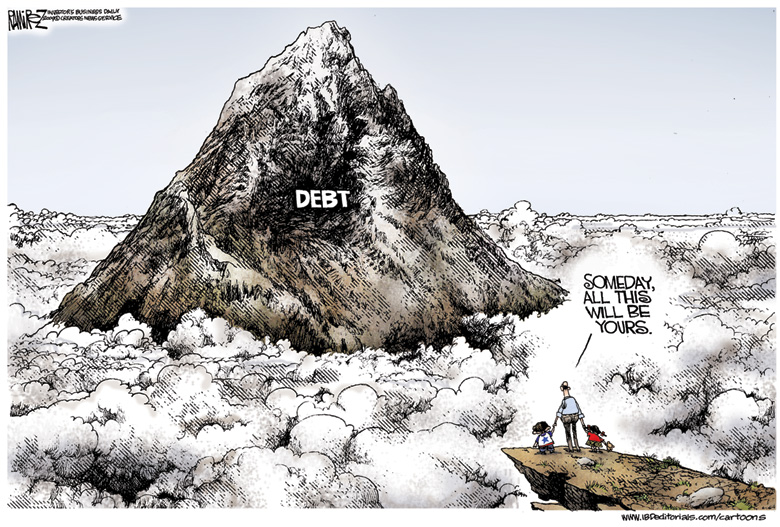 We love conquering mountains, and while we don't love debt, we hope to conquer that mountain too. If you dig this site, please consider supporting us to pay off our student loans by supporting us through Patreon. Details below.
The Legacy - Cartoon by Ramirez
Student loans are unfortunately handed out like hot cakes to young students who are pursuing the American dream to get a college education. With promises of high paying job prospects right out of college, its easy for an eager 18-year old to jump to accept a private student loan. Unfortunately, there is not a lot of regulation around this and students can get stuck with mountains of debt and high interest loan debts with no means of escape when reality after graduation sinks in, and that student loan payment is 50% of their monthly income. This country holds lenders who seek out low-income families for high cost mortgages accountable for their actions, but does not consider it necessary to hold accountable lenders who prey on (no-income) 18-year olds for loans they can't afford.
Without going into too many boring details, Michael and I have decided to have a big focus on tackling our over $170,000 in student loan debt by combining forces and living more frugally in 2018 and dedicating one paycheck to paying off loans. The student loan companies have plans to get payments 30+ years, but we are determined to cut that in half or more in any way we can. Our current plan has us paying the loans off in a little over 6 years, but that estimate is conservative considering a lot can happen in 6 years and this estimate assumes a fixed circumstance. In this time frame, we can expect to pay an additional $50,000 in interest. As you can see, we have a dedicated plan to hopefully get this debt tackled, but will greatly appreciate any support from Patrons who find value from this site and enjoy what we are putting out in the world. We would love to turn 6 years into 2 or 3 years, and we would love to reduce the additional amount of interest paid to lenders. 100% of supporting Patreon funds will go to paying off this student loan debt.
As a Patreon donor, you will also have access to freebies and special content that we develop along the way, content that won't be posted to this site and will only be for Patreon donors. We will begin living off one paycheck in January 2018. I will keep an update of our loan-debt repayment here, along with any contributions that came from donors.
We cannot begin to thank you enough for taking the time to read this, and if we are so fortunate, for you supporting us. In the end, this blog and these trips are our passion and we are happy to share with our readers.
We are proud to be sponsored by our Patrons:
David Walker
Amanda & Andrew
Katy Auffant
Aislynn & Luke
Holly Wielkoszewski
Amanda Phillips
Brittany Leffel
Heidi Kumm
Ashima Sharma
Alan Stringer
Become a Sponsor! All of our patrons get featured on our Sponsors Page, and if you have a website of your own, we will hyperlink whatever site you want to promote from your name! Also, patrons get access to exclusive content that is not posted to the She Dreams of Alpine site. Our "Resources for Bloggers" Video Series will go live starting December 2017. As an Insider Patreon, you will get access to the video tutorials we have created along the way as we are learning to create a side income with the blog. We will cover a wide range of topics including: Affiliate Programs, Increasing your Instagram Following, Marketing, Avoiding Scams... etc. Check it out here!