Looking for a place to get started?
If your looking for a quick way to dive deeper or take some action today I want to make sure you now about some of the resources we offer here on She Dreams of Alpine.
FREE resources
For those of you who are looking to up-level your outdoor adventure dreams or are looking for a way to get more organized we have a few really awesome free resources for you.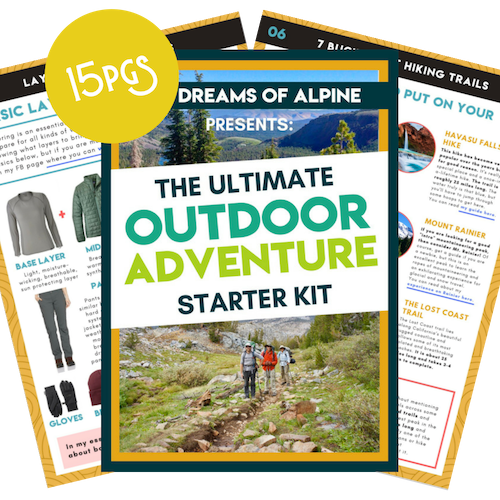 Outdoor Adventure Starter Kit
I created an awesome Outdoor Adventure Starter Kit for you (for FREE). It's filled with 15 pages of my best hiking, backpacking and rock climbing tips, techniques and inspiration to help you hone your outdoor adventure skills and become the ultimate outdoor badass. It's the perfect place to start if you're new around here.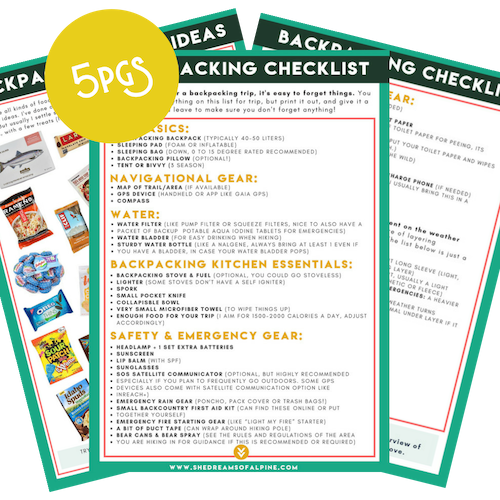 Essential Backpacking Resources & Packing Checklist
Grab our full Backpacking Gear Checklist that is perfect for 2-5 day backpacking trips. In addition to this organized checklist, you'll also gett a visual checklist, layering essentials tip-sheet, and 25+ backpacking food ideas that we personally love on backpacking trips.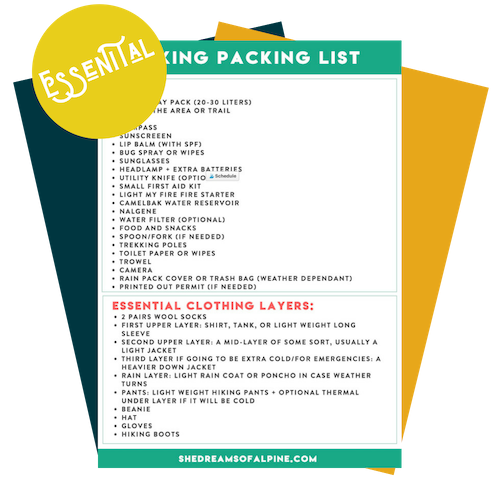 Day Hiking Packing Checklist
We're making packing for your next hiking adventure easy. Download our essential hiking gear packing list, and you'll always be prepared when you hit the trails!
COURSES & PROGRAMS
Below are a few further ways you can take your outdoor training and skills to the next level by working further with me, Allison, at She Dreams of Alpine.
Signature backpacking program: become an outdoor backpacking badass
Join me (and your peers) on a transformational adventure, where you will learn how to confidently go on your first ever (or perhaps your first solo) outdoor backpacking trip without the constant fear of getting lost, the crippling worry of being unprepared, and the lurking feeling that you lack the "know-how" and skills required to stay safe on the trails. Click below to be the first to know when my one-of-a-kind backpacking program re-opens again for enrollment!
E-book: How To Craft a Perfectly Optimized, Trail-Worthy Backpacking Meal Plan
Packing food for a backpacking trip is a science.
Pack too much and you'll be carrying unnecessary extra weight in your backpack for the whole trip. Pack too little and you could find yourself hungry on the trail when you're burning a lot of calories each day. This Worksheet and Meal Plan Calculator will teach you how to craft an optimized, trail-worthy backpacking meal plan that suits you and your needs perfectly so you can avoid hitting the trails with too much (or too little) food.
I'll show you exactly how to plan your meals for each day so that you never go hungry or overpack your food again.